| | |
| --- | --- |
| Loch Achonachie | |
---
Loch Achonachie is a shallow reservoir lying in the River Conon valley formed by construction of the Torr Achilty Dam at its south-east end during the Conon Hydro-Electric Power Scheme development of the 1950's. It lies at an elevation of 108 ft (33m) above sea level, is just over 1 mile (1.6 Km) in length, 350-500 yards (320-450m) in width, and has a total area of 170 acres (69 hectares). Fishing is from the bank and from 2 boats owned by the club.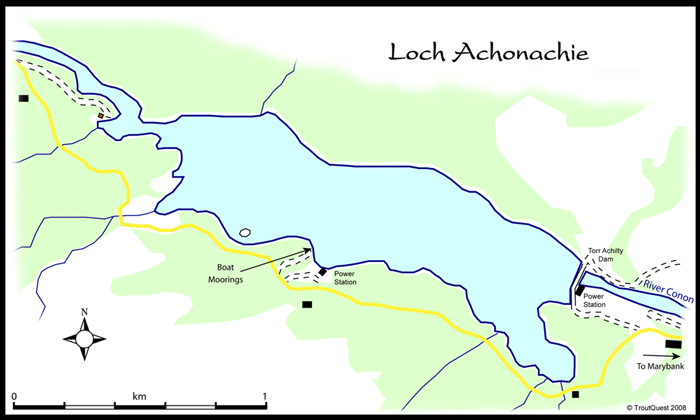 Loch Achonachie
Loch Achonachie produces brown trout, salmon, pike and perch. The brown trout are typically ½ to ¾ lb in size but there are also some very large ones. Two huge brown trout of 6½ lbs and 5½ lbs were caught by a club member Alan Macdonald in 2007. Flies to try include Black Pennel, Greenwell's Glory, Bibio, Dunkeld, Claret Bumble, Kehe, Kamasunary Killer and Teal & Green.

From June, salmon enter the loch and they can be caught by spinning, but also on the fly - try a surface muddler.

The water levels in Achonachie are subject to change very quickly when the Hydro-electric schemes are generating, so pay heed to warning signs around the loch and be particularly aware of sudden drops in water level at the west end where the Upper Conon enters the loch.

Sunday fishing is NOT permitted.