River Conon System
---
The River Conon is Ross-shire's premier salmon and sea-trout river with a catchment area of over 440 square miles (over 1100 sq. km) that extends to the west almost to Kinlochewe and to the north west as far as Beinn Dearg, just 5 miles or so from the west coast.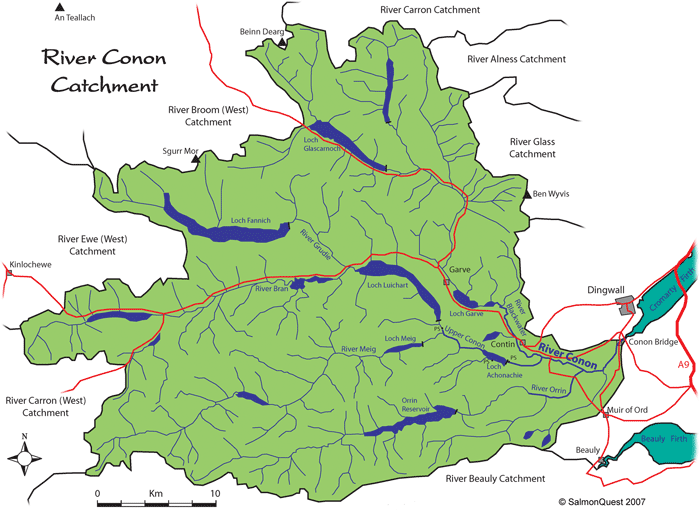 River Conon Catchment Area - click for larger map
The Conon system includes a number of tributaries including the Orrin, Blackwater, Meig and Bran as well as many large lochs such as Glascarnoch, Fannich, Luichart, Garve, Achonachie and the Orrin Reservoir; some of which were created or enlarged by development of a major hydro-electric scheme in the 1950's that transformed the river system.

Red Deer Crossing the River Meig
The Conon River itself runs for about 15 miles (23.5 km) from the outflow from Loch Luichart to the junction of the Conon estuary and the Cromarty Firth near Dingwall.

Today the most productive salmon fishing is in the main river from below Loch Achonachie to the Cromarty Firth, and in the Blackwater tributary below Loch Garve. Average annual rod catches for the Conon system are typically 1200 - 1500 salmon & grilse per year of which about two thirds are caught in the main river below the junction with the Blackwater.

Rogie Falls - River Blackwater

Image courtesy of Andrew Graham-Stewart